September 22, 2022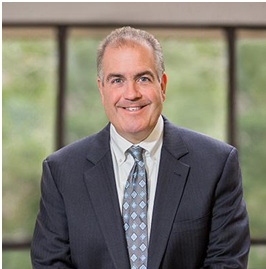 What are the core elements of a CUA education that have propelled you to a life of professional success, happiness, and purpose?
As Catholic U liberal arts students, we had to learn how to think for ourselves.  We had to learn how to problem solve and how to be resourceful.  Learning critical thinking skills in our Nation's Capital in the 1980s forced you to focus on what kind of person you wanted to be and what kind of life you wanted to lead.  The other core element centered upon service to others.  You can get anything you want out of life simply by helping other people achieve their goals.  Of course we did not call it "servant leadership" back in the day, but those principles were evident in our education and experience at Catholic.  You can not be a leader if no one follows you.  Therefore, learning to think and to be of service has formed the basis for my legal career and my non-profit board work, all of which centers on Catholic education for under-resourced scholars.  
What has been most gratifying about serving as Chair of the BOV? 
We all frequently reminisce and wonder what we would do "if I could do it all over again."  Being Chair of the Board of Visitors gives me that opportunity to be connected to a fabulous Dean (Tom Smith), an energized administration and faculty, and some of the most amazing students that I have ever met.  The School of A&S has 17 different departments with 140 faculty members and 1400 undergrads.  From anthropology and biology to psychology and politics, can you imagine how many smart, funny, caring, and interesting people I get to meet and with whom I get to work??   My amazing fellow Board members are passionate about the University and donate their time and diverse talents to making Catholic world class.  And there is absolutely nothing special about my skill set.  Any one of the thousands of living CUA alumni could have this wonderful opportunity.  So come help us grow the board! 
The BOV is partnering with Dean Smith in launching a visionary strategic plan for the School of Arts and Sciences.  What elements of the plan excite you most? 
As the University's largest school, A&S is incredibly diverse.  Dean Smith has been a champion of cultivating an environment that blends brain-power and heart-power to educate our students to become honest critical-thinkers who are strong communicators and ethical citizens.  We need that in this world more than ever.  I am particularly excited about the Adulting Initiative:  what I will call the focus on guiding undergrads into a healthy orientation to adult life.  Understanding the value of a liberal arts education, knowing that the only constant is change.  Being able to navigate (thoughtfully) differences of opinion and becoming well-formed and well-informed servants for the nation and the Church.  What parent would not make that investment for their child?   That type of foundation will propel students toward a path of lifelong success.
Under your leadership, A&S BOV members have enabled internships for CUA students.  What advice do you have for alums wanting to give back in this way?
Networking at my age is easy.  It is not so easy for an undergrad.  We all want to raise the profile of the University, and that comes from shared opportunities.  Our students are excellent ambassadors.  So pick up the phone, or click connect on Linked-In, and make an introduction.  In my case, I learned that a CUA student, who was really impressive, was trying to get their foot in the door for an internship with a specialty risk company.  As it turns out, that company was a new client of my firm.  I made a phone call and wrote an email.  The student did the rest.  It took me two seconds, and the student had a wonderful internship experience.  Be a connector.  It takes virtually no time and it may be one of the most rewarding experiences that you will ever have.  
Michael J. Fortunato
CUA Class of 1987 (Politics)
CUA Law Class of 1990
Chairman and CEO
Rubin, Fortunato, and Harbison, PC
Wayne, PA
www.RubinFortunato.com
Related News