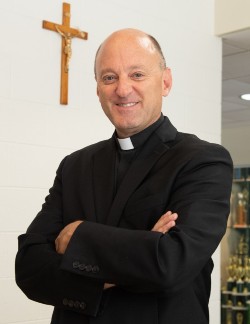 Superintendent of Catholic Education, Diocese of Venice
Rev. John Belmonte, S.J., Ph.D., is a Jesuit priest and a native of Arlington Heights, Illinois, he joined the Jesuits in 1985 and was ordained a priest in 1996. His Jesuit training took him for graduate studies to Omaha, Rome and Boston. He completed a doctorate in Educational Leadership at Loyola University Chicago in 2006. His dissertation is entitled, "To Give Ornament, Splendor and Perfection:  Diego de Ledesma and Sixteenth Century Jesuit Educational Administration." A life-long educator, he taught high school for fifteen years at St. Ignatius College Prep in Chicago and Marquette University High School in Milwaukee.  He also served as principal at Marquette High for six years. For ten years he led the diocesan schools as the Superintendent of Catholic Schools for the Diocese of Joliet in suburban Chicago. Father Belmonte presently serves as the Superintendent of Catholic Education for the Diocese of Venice in Florida, overseeing Catholic schools, religious education programs and online adult faith formation. The diocese educates over 5,100 Catholic school students in fifteen schools and 11,000 religious education students in fifty programs.  Father Belmonte enjoys presiding at weekend masses at local parishes in the diocese. 
In 2021 he began board service to the Institute of Catholic Liberal Education. For many years, he has been the chaplain to the National Italian Invitation Golf Tournament for Charities and the Societa' del Santissimo Crocifisso di Ciminna in Chicago. In 2013 he was elected to the board of the National Catholic Educational Association where he served until June 2020. From 2011 to 2018 he was one of the chaplains at Wrigley Field, saying mass on Sundays during the season. If pressed, he does take some credit for the 2016 World Series Championship. You can follow him on Gettr: @johnbelmonte63.