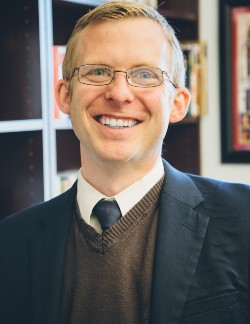 Associate Superintendent for Mission and Formation, Archdiocese of Denver; Visiting Associate Professor, Augustine Institute
R. Jared Staudt, Ph.D. serves as Associate Superintendent for Mission and Formation for the Archdiocese of Denver and Visiting Associate Professor for the Augustine Institute. He also teaches for the lay division of St. John Vianney Seminary and the Institute of Catholic Culture. He earned his B.A.and M.A. in Catholic Studies at the University of St. Thomas in St. Paul, MN and his Ph.D. in Systematic Theology from Ave Maria University in Florida. Staudt served previously as a director of religious education in two parishes, taught at the University of Mary, and served as co-editor of the theological journal Nova et Vetera. His work at the Archdiocese of Denver has focused on Catholic worldview throughout the curriculum, teacher and leader formation, issues related to human sexuality and gender, and discipleship.
Staudt is author of The Primacy of God: The Virtue of Religion in Catholic Theology (Emmaus Academic) and Restoring Humanity: Essays on the Evangelization of Culture (Divine Providence Press). He is editor of Renewing Catholic Schools: How to Regain a Catholic Vision in a Secular Age (Catholic Education Press) and The University and the Church: Don J. Briel's Essays on Education (Cluny Media). He writes a syndicated column entitled "The Catholic Culturalist." He and his wife Anne have six children and he is a Benedictine oblate.