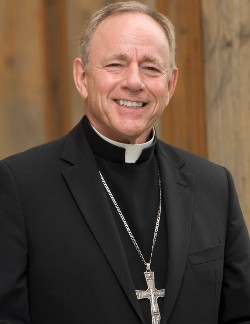 Archdiocese of Vancouver, British Columbia, Canada
Born in Ottawa in 1946, Archbishop Miller discerned a call to the priesthood and entered the novitiate of the Basilian Fathers, making his first profession of vows in 1966. He was ordained a priest in 1975.
His original field of academic interest was Latin American studies, and he earned his Bachelor's Degree at the University of Toronto in 1969, followed by his Master's at the University of Wisconsin in 1970. After teaching high school for a year, he pursued his Master of Divinity at the University of St. Michael's College, Toronto, and then completed his Licentiate and Doctorate in theology at the Pontifical Gregorian University in Rome.
Archbishop Miller joined the theology faculty at the University of St. Thomas in Houston, Texas, in 1979 and subsequently served as chair of the Theology Department and dean of the School of Theology at St. Mary's Seminary.  In 1990, he was named St. Thomas's vice president for academic affairs and in 1997 he became the university's president. From 1992 to 1997 he worked in Rome at the Vatican's Secretariat of State. Pope Saint John Paul II appointed him to the episcopacy in 2003, naming him Secretary of the Vatican's Congregation for Catholic Education.
In addition to teaching theology in seminaries in the U.S., Mexico and Rome, Archbishop Miller has served on the boards of schools, universities, health care institutions, and numerous professional and public service organizations. He currently serves on the Episcopal Commission for Justice and Peace of the Canadian Conference of Catholic Bishops. He is also a member of the editorial committee of the International Commission on English in the Liturgy.
As well as his positions as Chancellor and board member of St. Mark's College and Corpus Christi College, Archbishop Miller is president of the Catholic Independent Schools of the Vancouver Archdiocese, sits on the board of governors of Catholic Pacific College, and is a member of the Providence Health Care Society.